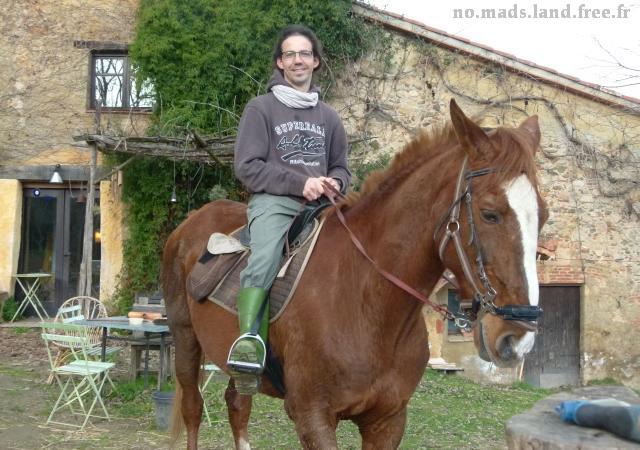 After an intense week of work on my website in Girona, I hit the Road to the south of Spain. To the east, along the coast, the road to Barcelona which I want to avoid. To the west, the mountains which it's not recommended to climb now, the snow falling to 800 meters. I have no other choice than to go into the valley, where Men have made ​​snaking railway, highway and national, all parallel to each other. I ride along the national 2, under the rain that will never end today, by taking the service road which is relatively quiet. I pedal energetically to join faster than I can an area where traffic is less intense. I navigate without map with only the recommendations of the population, tourist information centers being never open at times when I ride. I don't seem to have completely taken the Spanish's life pace, pedaling at times when all public places and shops are closed. The Spanish continue to live in winter on the pace that the heat forced them to take in summer. That's when it's time for me to pitch my tent, black obliging me to do it, that streets start to be full of live.
Without map, I have the chance to be able to use free internet in libraries to imagine a semblance of itinerary for the next day, what I do in Sant Celoni.
On leaving, I commit a discussion with Oriol who is quickly invite me at home. To join him, I will have to ride a few kilometers in the scary dark at full speed on the C-35 road at peak times. The width of my way, the stop band of emergencies, is only 30 centimeters. Adrenaline and the promise of a beautiful evening help me to go ahead …
I find Oriol where we have got an appointment and start the longest 3 kilometers of the day. I attack the ascent of Montseny (the Mount of Good Sense) by steep slopes and too hard to the end of the day, sometimes clinging to his car, or pushing the bike when the slope increases again and the tension on my arm becomes too large. Once at the top, we enter the forest on a rutted track by the water dripping by heights of Montseny. After several weeks of mountain, my brakes are worn. In this stony path, sandy, hilly and winding, they doesn't work anymore as I suffered another downpour. Only the soles of my shoes will help me to slow down in too steep descents … I arrived exhausted with the extreme concentration required the track in the dark with the only landmark far away, the 2 red lights of the Oriol's car. We finally arrive in his old house with relaxing atmosphere.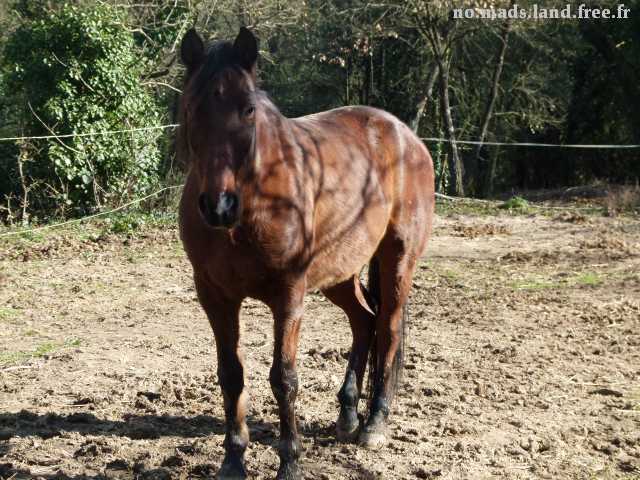 My meeting with Oriol will become as a personal reflection on the human being, a demonstration of the beauty of the Good. It will open my mind giving me his own views on life, sharing with me their experience, their joys and sorrows …
To start, he volontarily admitted to me to have don't talk about the difficulty waiting me to come in his home, not wanting to dissuade me from the start, leaving me the choice to accept or reject the invitation. He thought, "If this guy can travel Europe by bike and manage its security autonomously in the sometimes violent capitalist World, with my help, it will be quite capable of climbing to my house". Furthermore, if the difficulties will proved too big, not crazy, he knew he had a backup solution: the trailers.
He pays great attention to others. From the first minute, I greatly appreciated the patience that was shown to me. Having regained consciousness of this physical and mental exercise, we share a first meal and it is the opportunity to begin to know each other. Traveler himself in the past, he knows the problems I may encounter and quickly gives me the opportunity to stay a few days to rest. He works as a makier movies and has to go the next day to the first one of one of his film. Then he offers me instantly the most beautiful thing in the World: blind trust. Oblige to leave the house for a night, he asked me if I can take care for him to his 5 horses, giving them food the next night and in the morning the day after.
Trust is a valuable asset.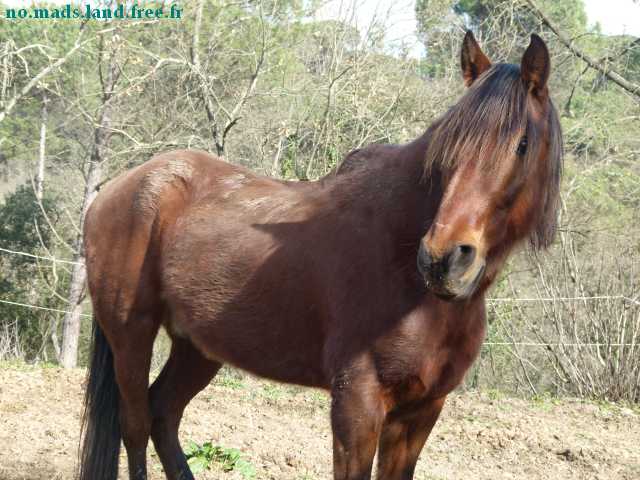 It's only early in the morning the day after of our meeting, at the time when his 5 horses ask to eat, that I discover his little land of paradise surrounded by forest, the Montnegre (the Mount Black) facing us head in the clouds. He will present me Nogul, Mestral, Bosque, Bolero and Thunder who I ride the next day and explain me the protocol to followed for easily feed his horses that he considers as the members of his family. This protocol should be respected so that each of the horses without stress, eat the same quantity of food without try to steal food from each other … I remain captivated by this gesture of trust, which shows how human relationships can be beautiful and healthy when the fear of the other doesn't go over the most beautiful human mental abilities. Everything is a matter of philosophy of life … I feel very responsible to him but also a little anxious because of a fear of horses after falling in adolescence. I lack confidence in me with these animals so beautiful but so powerful. Finally, I did it better than I thought. I took the following days more and more trust on me to go closer and closer by myself.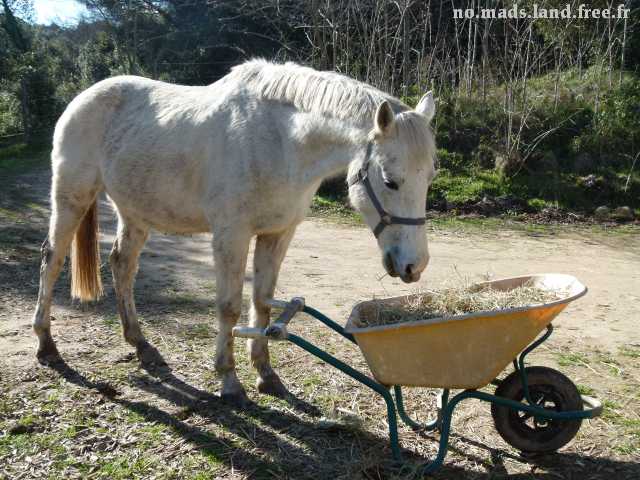 Oriol and I quickly find a lot in common idea in our vision of the World and the place that take the sharing in our respective lives. From the outset, our agreement is perfectly revealed. We both want to share more time together.
The time pass slowly, and our cohabitation becomes very natural. Oriol is a country man, with physical and mental power it requires, but he's also very sensitive and is not ashamed to express his sadness with regard to certain matters which currently affects … Share for him is very important, and this desire led him to invite me to stay a little longer. When dining in the sun, while he's very good cooker and he made ​​me discover some Catalan specialties, some ideas brought from his various trips and how to drink wine in a "Porró", he offer to make a deal. He needs hands to maintain the forest that requires a lot of time and work for one person. In exchange, he will offer me food and bedroom. And it's like that with him, I will become the time of a week a country man protector of the forest. My search for a HelpX project via the existing network is unsuccessful for nearly two months while here with Oriol, the same operating mode starts up naturally … Let's work !!!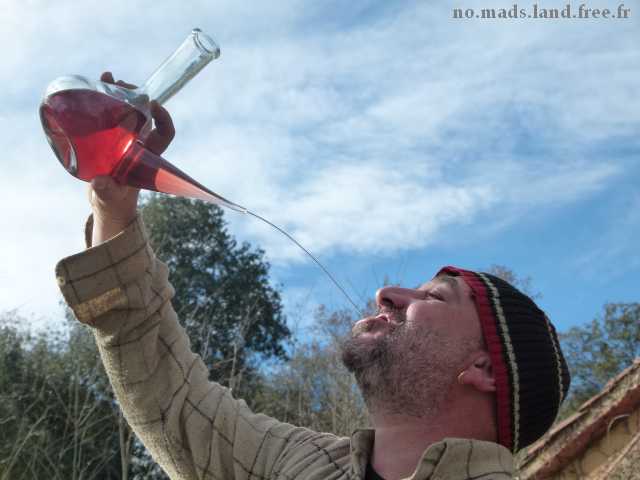 We clean some access to its propriety, the track being cut off by fallen trees under the weight of years or eaten by insects. We fill many trailers to go to cut the wood that will be used next winter to cook and heat the home. Sometimes too full, the trailer tires burst and we have to stop to change the wheel. All this proves to be a very difficult job for me but a very good continuity in my reeducation. Alternating hard working time and rest times, it made ​​me a stronger every day. We share good working moments that are merely pretexts to have time to discuss, enrich each other, to acquire some additional capabilities that everyone has to learn from each other and we share great moments of fun.
Often, opinion debates arise between us and I listen carefully to points of views of Oriol who's remember rightly life is to evolve. Man and his activities are only a small part of the Universe and our existence is so small on the scale of evolution. When some persons expressed the need to live an environmentally friendly way to "Save the World", that's express a sense of superiority over those who live very well by consuming excessively. And conversely, who's don't care about the environment feels superior to these marginal persons who's work body and soul to save the planet.
Which one is right or wrong in the model of life that the human species has to borrow ?
Whatever happens, we will always try to argue that our view is the right one, and this always comes back to watch his own navel. We have to accept that "human activities" pollute the Earth and that Man is so made. Yes, we needs to expand, to build, to create, to use the capacity of intelligence specific to them. When the Humanity will be gone, the Earth will continue to be and will offer a way to the other species to grow, as when the dinosaurs became extinct … On an other side, certainly, we destroy by little (big) Fire the environment around us by our activities, but that will not to say we have to stop or not care about our surroundings and try to do Good, be it for our neighbors, as for trees, plants and animals around us. Everyone must find his way, and anyway, as long as we exist, this debate will exists, and will remain long and complex. The trick is finding the right balance. After that, the Earth will continue to evolve , with or without us …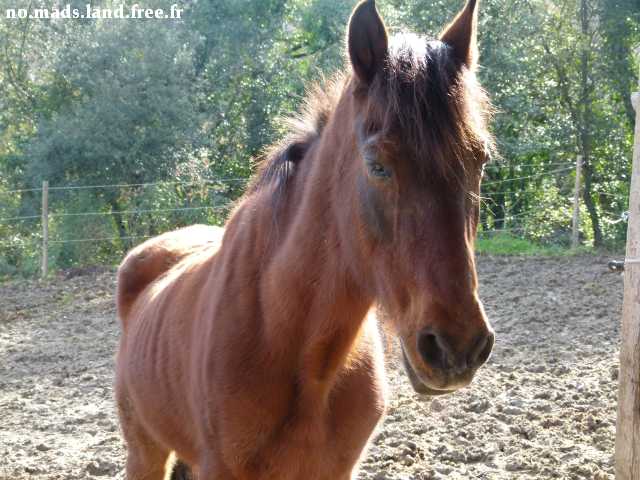 We also talk about the altruistic wish to "Help the World" that some of us feel inside them. He tells me his experience in Guatemala in total immersion with the people who had taken up arms in the 60′s when the Civil War broke out. He was there in single European observer and undertook to make a documentary to show the lives of veterans who were reconverted to farmers by forming agricultural cooperatives. A Spanish NGO financed a project designed to provide people the opportunity to buy back their ancestral lands, that had been taken by force during the war, in order to cultivate them. The leaders of this association have taught him when he arrived the following: "Here we are helping no one, we only share experiences that enrich us all". The fact is that by their actions, those present were only express this insatiable need to share that the majority of Human have in them, which is more by doing the Good. Want to impose his law as a European would be, one more time, want to observe its own navel and affirm a sense of superiority over Guatemala's populations. Culture and local customs had to be respected because it would be arrogant to think to be able to replicate the European model on a continent that isn't governed by the same rules.
A German engineer also intervened to provide its technical know-how to set up a network capable of supplying water to remote villages in the mountains. In parallel, the local shaman had his share of work at a ceremony invoking the Gods of the Mountain to ask for permission to dig in the rock.
Thus Oriol, a good generous "bad boy" learned humility, that often we forget to show towards others, and that he has deeply in him.
I can't tell you everythings happens because our exchange also took many other facets, like a swinging evening at the concert of the rock band "Orquestra Motherfuckers" drinking "a few" beers … but the most important thing I absolutely have to add is …
Thank to you Oriol for giving me the opportunity to remove my fear of horses after this magnificent hiking in the mountains, but especially for sharing with me your house, your knowledge, your ideas, your emotions and offered me your time and friendship …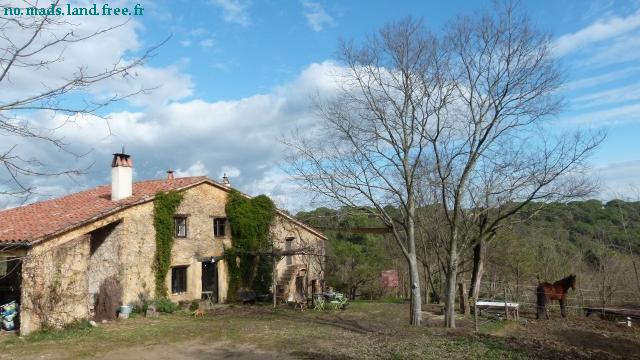 Join fast Facebook community to discuss with us !!!