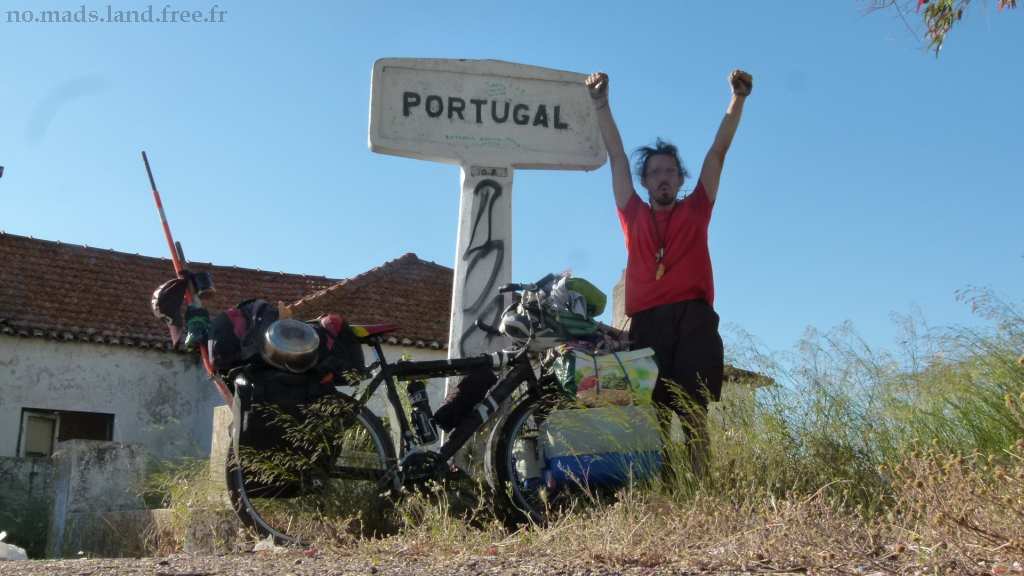 I discovered Portugal a few years ago. People often told me that Porto is even prettier than Lisbon. There are 3 years, crutches in my backpack, my attempt to return there by hitchhiking failed. I am looking forward to it and find again Portuguese people who had seemed to me so warm and welcoming. I'm also looking to get closer to the coast and to leave the center of Spain unusually warm for May. I'm gonna quickly, but as often in travel, nothing goes as planned.
I often get bad experience when I crossed border so interesting as it is thanks to the mixture of cultures. The limits are fictitious in Europe today, and it often finds abandoned customs posts, the walls are full of graffiti. Sometimes the buildings are inhabited by homeless …
I recall a few border crossings:
I promised my sister to go to Denmark on her birthday. At the time, I had a bad bike. My tires were almost smooth. I popped three times that day before going to Denmark by a small wood.
The next day, in the rain, in the forest, a branch got stuck in my wheel. She broke my derailleur, twisting my chain and some spokes in the same time. A tractor was helping me by bringing me to the nearest bike shop … in Germany !!! Fortunately, as always, all's well that ends well. Employees of small repair shop invited me to dinner and brought me with his car in Denmark that same evening …
One morning I was dizzy a few kilometers from Poland. On entering, I met Piotr. He invited me to his home on the edge of a small forest. The evening was warm and abundant food. The next day, decided to resume the Road, I can't move taken by stronger dizziness than yesterday. Without experience, I had rolled under too intense heat for several consecutive days and lost all my minerals by intense sweating. I was obliged to make a brief visit to the local hospital and then rest 10 days in this family for their dining pleasure. They didn't want that I go away …
Arriving in Spain this year, a mountain storm forced me to stay illegally for two days in a closed winter camping. My tent could fly a hundred times if I wasn't smartly sheltered me.
I arrive in Portugal and the border is just 50 kilometers. Everything goes well until a fly enters without permission in my ear at night without finding the exit.
I do a lot of kilometers to go quicker than possible on the coast, I'm tired and it's still hot. I am looking for a quiet place. Suddenly, a lake appears before me without appears on my maps. Great. It's the ideal place for a day of rest. I enter a small, dented way to get closer to the water and find shade under a tree when suddenly … I feel abnormal vibration at my front wheel. I quickly discovered that a piece of metal in my luggage carrier homemade (yet very strong) is broken. It's Saturday, difficult to find a solution this weekend. I have enough water and food in the bags so I decided to spend two days near the lake to fish, eat carp and relax.
On Monday morning, I go to the nearest village and talk with the local mechanic. He doesn't have much time for me. I am looking to strengthen the fragile portion with a stronger piece of metal. He can't help me as much as this and the only thing he can offer me is a fast welding. Which he did. At least the luggage carrier will hold until I find a better solution. I take the road reassured seeking a good handyman with more time to offer me. From village to village, I talk with all garages on my way without finding THE right person. Business is business. Finding mechanical aid isn't always so easy. Portugal is approaching. The border is just 17 kilometers when I enter Alvarado, the last Spanish village. I spend the night there and worked at the library the next day. I learn about who could help me here. I now speak good Spanish and I have every interest in finding a solution before Portugal where make me understand may be more difficult. This is my last chance.
I meet two cousins who names of both is Manuel(s). They have a small car repair shop in the courtyard of their houses which they open only in the evening. A few minutes after having explained my problem, I discharge my bike and dismounts the luggage carrier in question. Neither one nor two, Manuel (which one ?) is put to work. He cuts, polishes, drill … it seems to properly conduct this matter and I let him work with confidence, remembering to take a look from time to time. Meanwhile, his cousin provides them with the tools, brings the welding machine and we are talking calmly. Less than an hour later, the case was heard, and we settled in the yard drinking a beer to continue sharing.
I stay in the village for two more days to work in the library.
One morning I wake me up determined to join Portugal. It only remains me 17 kilometers.
Bad luck has yet decided otherwise. Coming out of the woods where I had settled to sleep, I discovered that my front wheel is slightly defalte (second puncture in 6000 km). I re-inflate my tire to see if I can fix it later. I'm leaving. In 15 kilometers, I have to pump out three times before entering Badajoz, the last border town. I repair in the shade in a park.
This time it's good, I'm ready for the last 5 kilometers, but another bike traveler offer me a few beers all afternoon. Portugal doesn't seem want to me.
I left late and I FINALLY pass the Portuguese border. All right, forget troubles !!!
I instantly discovered a breeding country. Many bulls. Fortunately, all the spaces are closed. But for me it means that it will be very difficult to find a place to camp. The olive groves are also surrounded by barbed wire, it's strange. Why so much security ? In my memories, Portugal seemed a rather peaceful country.
Sunset press me, and local people repel me. My Portuguese isn't yet very developed. Tonight, a Spanish couple invites me to eat and sleep in a good bed. It took I arrived in Portugal to finally be invite by Spaniards …
We discuss very late and the night is short.
The next day I cycling tired under high heat. Difficult to properly advance in these circumstances and I left a lot of energy. Again, in the evening, I couldn't find where to sleep. Someone tells me about the only place where it's possible to camp quietly to his knowledge in the area. This is an isolated church in the middle of olive trees, with a fountain, tables and barbecues where families and friends get together on weekends. The Portuguese people still has a strong religious practice. Unfortunately, this site is located 10 kilometers back. I am already tired. In the urgency of the situation, I break the rule not really set that says, "Always move forward." The site is very quiet indeed and I collapsed me to sleep without eating, five minutes after I arrived at the site.
The next day I get a little sick and stays put while sleeping all day. After a good meal and a last nap mid-afternoon, I find the energy to leave. I ride about twenty kilometers to a quiet forest on the edge of the road. Bulls has now gone, replaced by pine forests and a tree of which I still haven't determined the name and species. Regardless, this easily gives me shade and space I need to spend my evenings. No luck tonight, a cloud of mosquitoes attack me while I'm making dinner. They devour my legs in less than 10 minutes, forcing me to take refuge in the tent that I hadn't been installed for more than 3 months (I rediscover how it's tiny, I who sleep in the open air for all this time). I resume the preparation of the meal and my petrol stove has trouble functioning. Yet I have performed maintenance and cleaning yesterday. I suddenly discovered a small leak at the pump that put the pressurized fuel. I go out micro-tools to repair and a plastic piece falls into my hands …
This is a disaster: my stove is now broken, and I have nothing more to cook. It's very hot since a few time and it is now very dangerous to make fire. In view of the events of the previous days, I'm tired and I have to feed me well absolutely. Fortunately, tonight, the site allows me to make an emergency fire safely. What a pleasure to find back cooking over a wood fire, but I'm in a perilous situation. Find a bivouac place is difficult. I need to find shade every night, and now, a place to make a fire for cooking. The coming days will be very complicated …
I have to find an emergency gas stove and be ingenious during this time. A few hundred kilometers later, in town, I found the solution. But all this time, the Portuguese showed me why I came to meet them. Their hospitality saves me from starvation or supermarkets with their ready food that I hate so much …
The first evening, entering a village, I meet two young people who speak good English. I explain why I'm looking for a place to make a fire, and they invite me directly to eat and a drink at the local bar, seat of their football team. We start a walk by the river on a beautiful beach waiting for a phone call.
The president of the football club invite us to join him at the stadium. He opens a locker room where he offers me to spend the night and take a shower. He is also lets me use the barbecue to prepare my meal the next day … I go to bed very late.
The next day I am still tired from all those little annoyances end to end. I rolled a few tens of kilometers before plunging in the shade of a tree in the front of a tiny town hall in a small village. I inadvertently captures Wifi and it allows me to work a little.
A lady comes out of the building with his two daughters, talk to me a few seconds in passing and then got into his car. She starts, stops, calls me and hands me a piece of paper. On it, are written all its contact details. If I have any need she told me, I can contact her. A few seconds later, she invites me to eat and sleep at home … Now, I don't need to ask to be hosting. How wonderful !!!
I finally found a gas stove, and as always, all's well that ends well.
Thank you for all wonderful Portuguese people so smiling, who regularly on the roadside spontaneously offers to me a little something to nibble …
Join fast Facebook community to discuss with us !!!