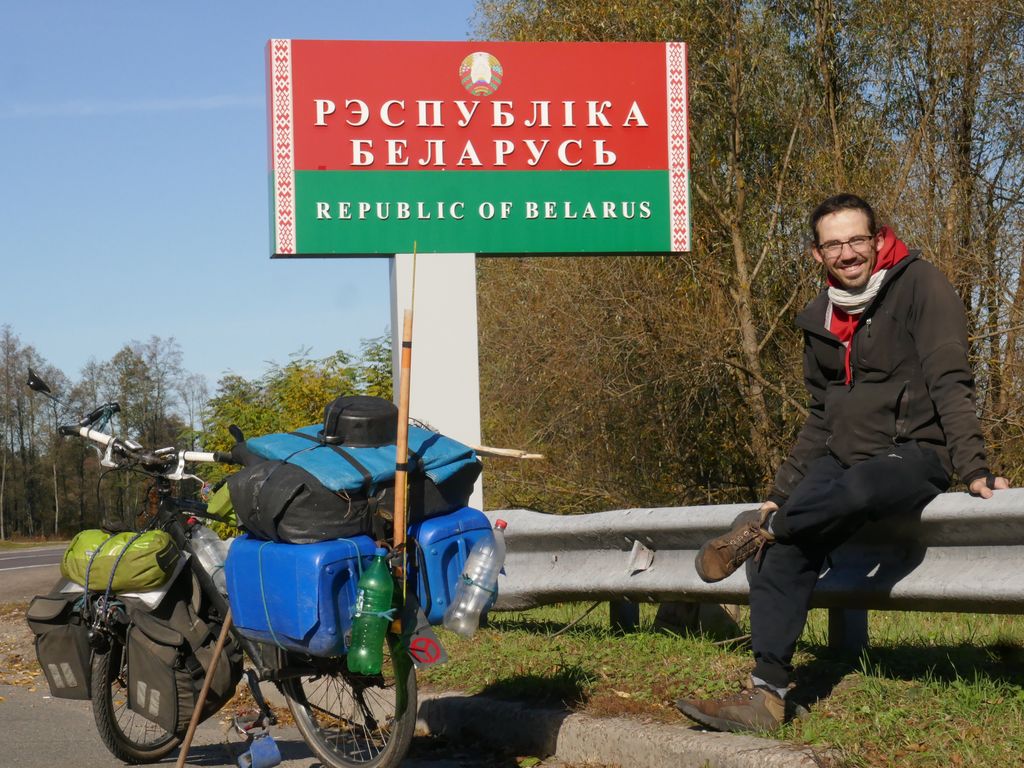 « It is dangerous to leave your house, you hit the road …
and you don't know where that can lead you. »
(Bilbon, The Lord of the Rings)
When I started pedaling in 2013 to give my destroyed body a new impetus, I did not know anything about cycling and I could never have imagined a European tour that had lasted 6 years or that I would visit 41 country by pedaling more than 52.000 kms making the equivalent of nearly 50 times the ascent of Everest. The doctors who saved my life a year before would never have bet on that. And yet …
I found a bike in the trash and without preparation I left.
My first wheel revolution took me straight across 5 countries over 4500 kilometers. After a year and a half of galley, I pedaled with joy and without pain. They faded over the kilometers, and even though my body, still feverish, still worried me a little, I slowly regained confidence in him and me. From Belgium to Germany via Denmark, I arrived in Poland without having seen neither the kilometers nor the months pass. Thanks to the bike, I rediscovered what it meant to live.
I had since a long time lost hope in Humanity because of the competition raging in the world of work and the growing individualism in Western society. Then the heat wave, a deep dehydration and a new passage to the hospital stopped me at the Polish border. I remained bedridden in a family that took care of me as their own son for 10 days. The generosity, the kindness, the tenderness even, which they showed me was incredible. On the Road, I saw this kind of testimony of Love everywhere and that gives me the hope that I needed so much. Thanks to the bike, I rediscovered what meant humanity.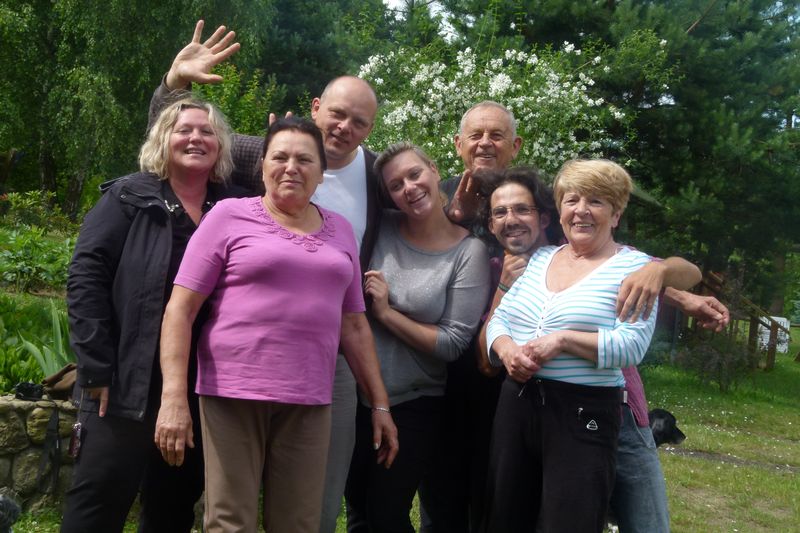 Looking for « traveling by bike » on internet for the first time in my life, I was going to learn that there is a complete universe dedicated to this practice, and even that Schwable tires would finally avoid me repairing punctures 3 times per day. But above all I discovered the existence of Heinz Stücke and his life spent cycling on the roads of the World. To know that before me, someone had already done what I thought impossible changed everything. Things were racing in my head. I had discovered in a few months too many good reasons to continue pedaling to stop. Thanks to the bike, I rediscovered what it meant to travel.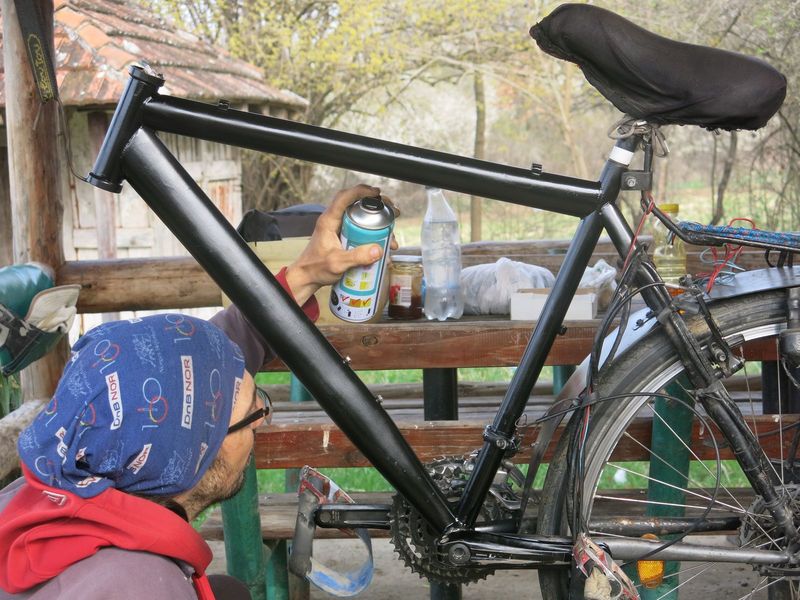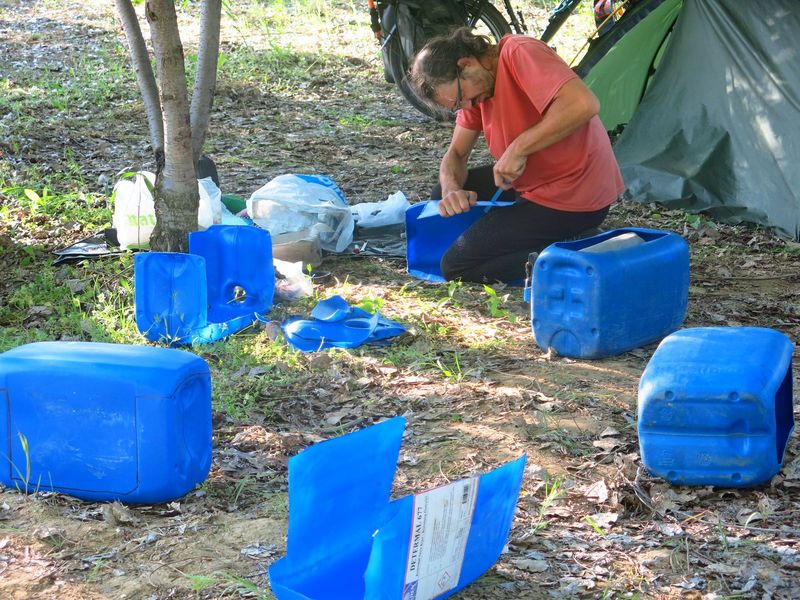 Winter was coming and I collected everything here and there that I thought I needed to travel long. In parallel, by anti-consumerism thoughts, I build a pair of "African panniers" from recycled water tank and also my racks with rusty pieces of iron that I adapted on my frame also found in the trash. Starting light without even a stove in Poland, I just made the perfect mistake of beginner : overload me from fear of cold. Proof that I had no experience about bike or mountain, my new home-made bicycle weighed over 30 kilos, and when loaded, the bike was 92 kilos. A madness I was not aware of.
Nomad, a full-time job.
The instructions of the perfect nomad was not delivered to me, and initially, I was overwhelmed by emotions, things to do, … I practice a nomadism to refocus on the essential. The daily tasks are simple, but take a considerable time: organize your equipement, orient yourself, talk to people, shop your food, find water, a safe place to sleep, set up the camp, maintain the bike, cook, eat, sleep. The days pass quickly. Free time comes with experience. Tiredness is also part of daily life. Despite the difficulty, I felt good. After several difficult years, paradoxically, traveling by bike brought me stability and huge pleasure in the present moment.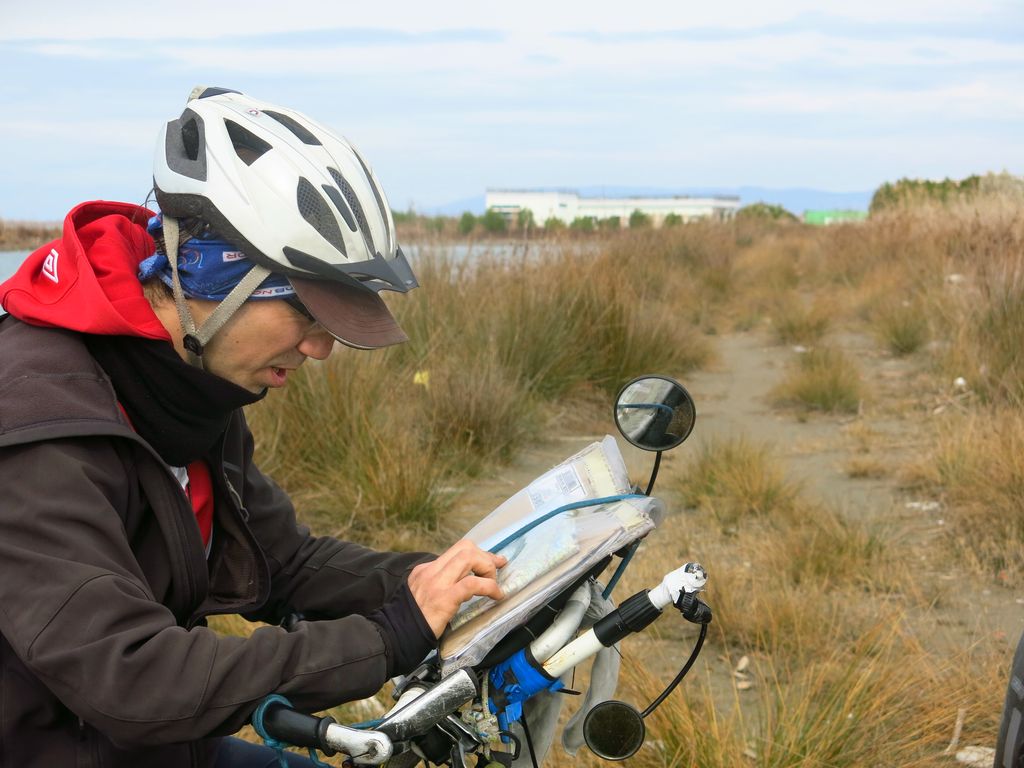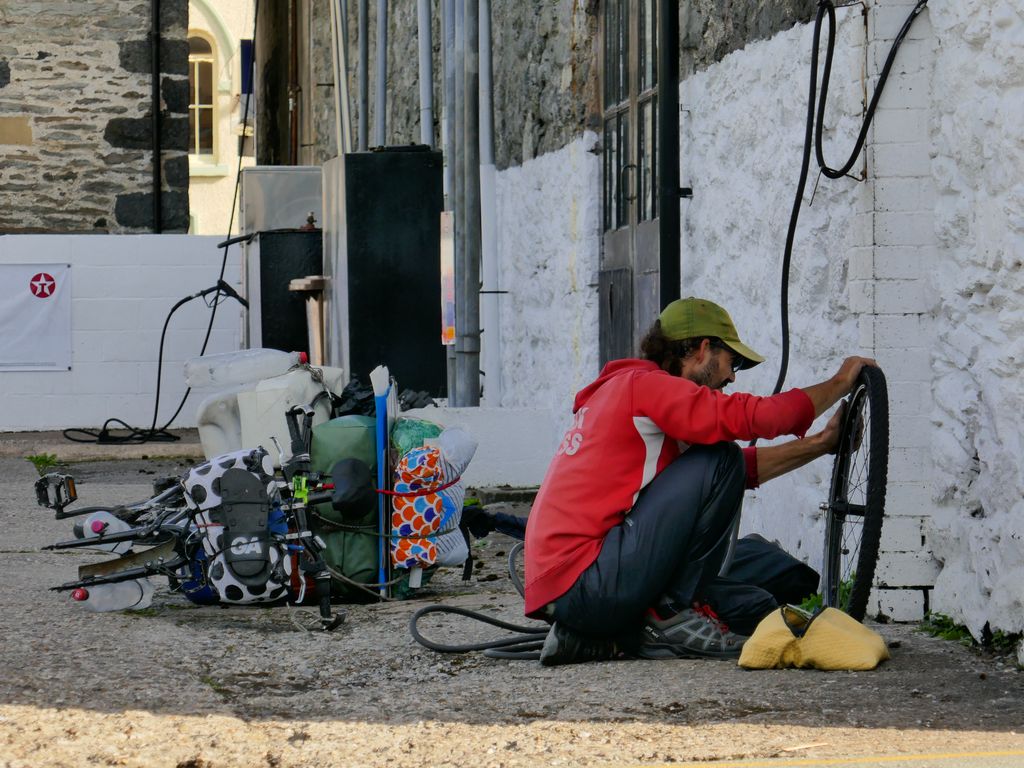 Traveler « old school », without a computer or phone at the time, I prefer the practice in the terrain. In two years, I wouldn't pedal that much, about 10.000 kms, but I was going to learn a lot, dedicating the years 2014 and 2015 to acquire the basics of nomadism. I wandered between France, Portugal and above all Spain, which I had estimated to be a good test country with its varied climates, from snow-capped peaks to arid plateaus, and its omnipresent mountains. Before starting on a World Tour, I wanted to test my body. Over thousands of kilometers, I slowly found back the 17 kilos of muscles lost in the Australian accident. It was reassuring. I was out of all troubles. I came back from far away.
Loneliness, the price of freedom.
However, my first winter gave me more difficulties morally than physically. The mornings being cold, I pedaled especially in the afternoon, at the hours when the Spaniards make their traditional nap. Sunset is early in winter, so it forced me to find a place to camp early too. People were still sleeping. For several months, I almost believe that this country was deserted. Talking to someone was the only thing I wanted. Loneliness made me suffer for the first time in my life. I have since learned to appreciate it, to look for it even sometimes. Loneliness will teach me to love me, allowing me to love others better.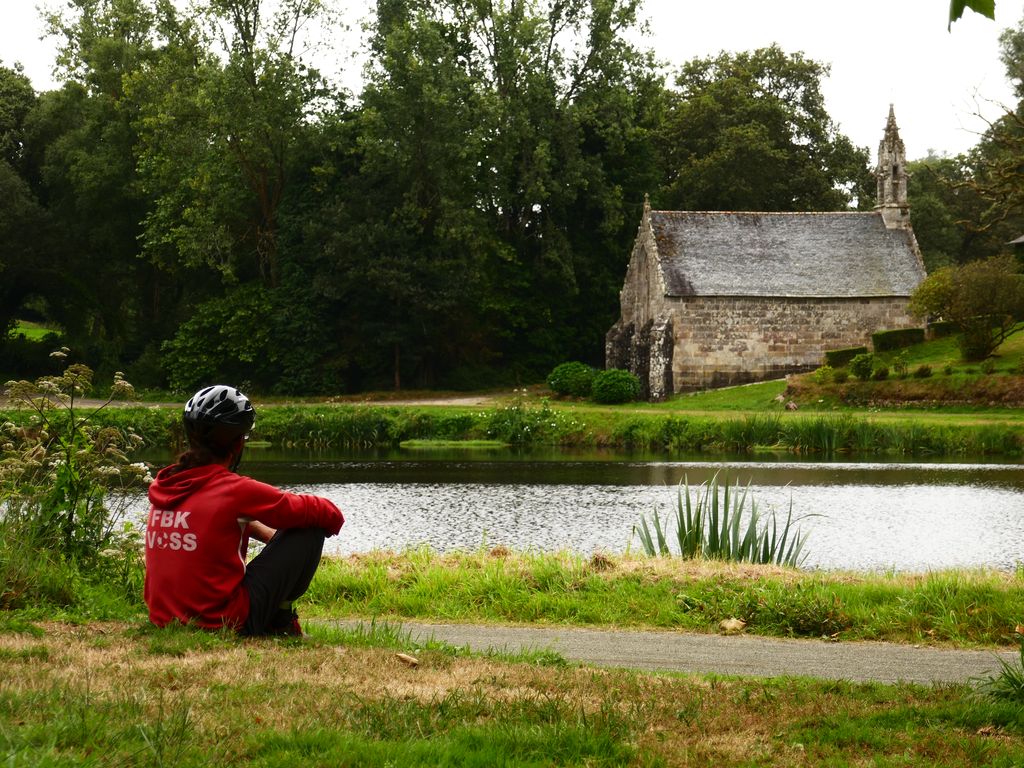 To be often alone, I thought a lot. It is at this time that the No Mad's Land project that I had in mind for several years was born. The adventure began as a blog, people often asked this to me. I had taken refuge in a small Andalusian village, living in an abandoned house (and supposedly haunted) for 3 months, to work on making my website every day at the library. Before, I did not use the internet myself and then thought I had discovered a way to "save the World". I quickly fell back on Earth discovering the competition raging on the web. This is not for me. A year later, because I spent my time searching for internet and electricity, I abandoned the blog, and the World is still decaying. I have continued to learn new technologies since then and No Mad's Land will start to grow on social media just after 5 years of work.
It is only in 2016 that I began to feel the fiber of the nomad. I accelerated things and pedal 10.000 kms that year. With the accumulated experience, I was now able to face the worst weather and to take the most difficult routes. I was better equipped too, replacing my old 10 yearstent, "my drafty hotel", to a Hilleberg palace, "my bunker". The bike slowly lost weight too. I had learned to weld to make new, lighter and stronger racks. Overall, with the years of the Road, with the needs and problems encountered, I multiplied the knowledge and skills that allowed me to be more and more autonomous and resilient. My motto: "There are no problems, only solutions."
« There was always a new country around the corner of the street. »
I had heard about North Cape and I was heading that direction. I was already in Sweden, and I couldn't resist the call of Norway and its fjords, which I had boasted so much about his beauty. Splendid, it is undeniable. Rainy too. A heavy rain, incessant, 17 days, 17 nights, non-stop, didn't destroy my morale, but my energy was at its lowest. I was exhausted and the steep slopes all day long finished to kill me. By borrowing the Rallarvegen, a very rough 85 km long track, stony, tricky, closed to the traffic of motor vehicles, I will live without doubt one of the most memorable experience of this great European Tour, the one that will have marked the turning point of the desire for even more. Arriving at the top of the track, in the snow in the middle of July, I will climb one of the 3 glaciers I slept face for 5 days. Without ny more food, I would have to go down into the valley, not without fear, since I discovered that I had split in 12 points the rim of my rear wheel. This incident forced me to remain stuck for 3 weeks in a small town looking for a new wheel that I would never find. The lost time will force me to give up my desire to join the North Cape because the winter approached again. Tenaciously, I promised myself that I will try the adventure again the next year.
No pla is the plan, but I have a lot of ideas.
My best friend diverted me from North Cape once more in 2017 by bringing me with him to Turkey and its +60°C in the sun. It contrasted with -20°C at night in the Balkans where he had joined me to pedal. Rather minimalist, backpacker, he will initiate my important lightening, while I will initiate him to build home-made equipment from the waste of the society found on the street. I became expert about recycling and I knew all the flaws in the system to find what I need. My bike had lost 22 kilos in 3 years. Better than the slimming propagand on the television. I will continue to progress on it gram per gram over the years. My bike has been under permanent construction since forever.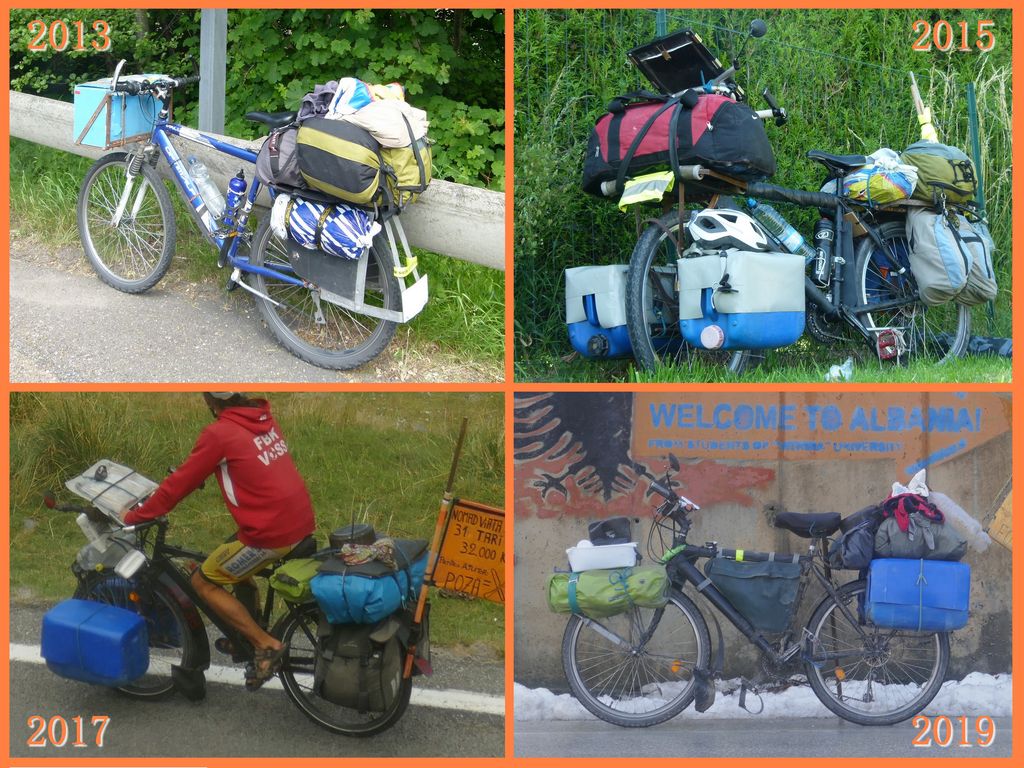 The very cold temperature take space the whole spirit. Summer 2017 was back and reconnected me with my desires. I looked at my European map and see that I had already visited half of the continent. From Turkey I felt the feeling of unfinished. Eureka. Everything seemed obvious to me. I knew what I had to do: visit all the countries of Europe. I just have now to trace a route through the countries I had never been to. I left my friend, thanks to him to help me pedal 13.000 kms in 2017, and I turn back to the old continent direction Eastern Europe. I was happy to share 6 months on the Road with my best friend, with whom I deeply exchanged, giving more flavor to kilometers, landscapes, meetings. But alone, Freedom is total, and I was happy to finally find myself without compromise.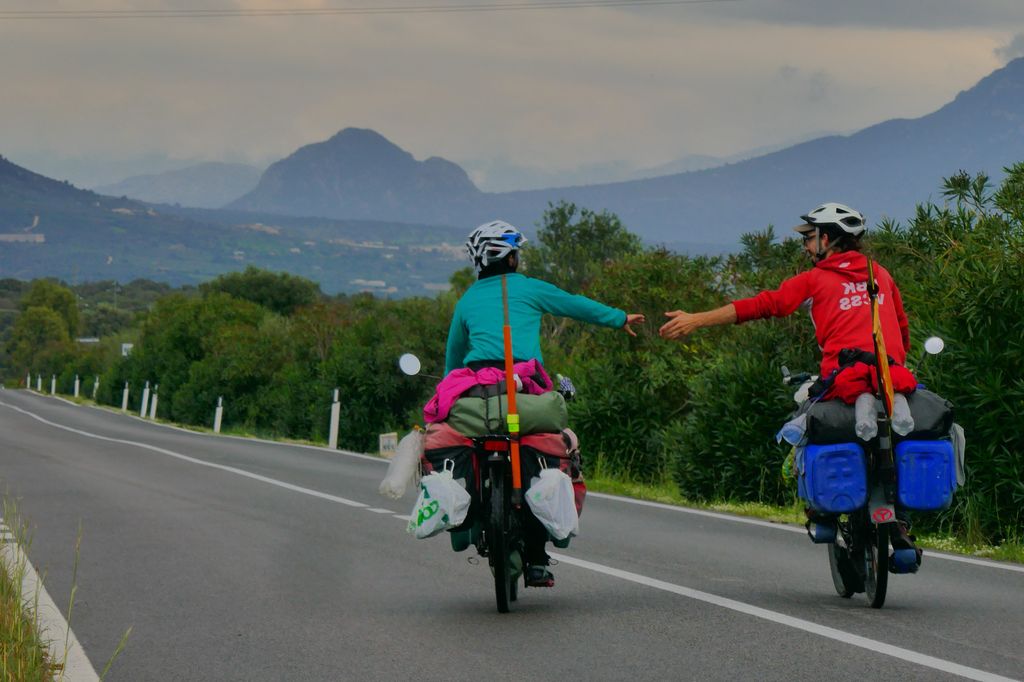 I didn't stay alone for a long time, because in the spring of 2018, when I tried the Cap Nord adventure again, I met a Latvian woman who agreed to follow me like in a fairy tales. In 3 days, she had returned the keys to her apartment and was pedaling by my side, not really ready to face the endless Scandinavian forests that I love so much. I now had a lot of experience and I guided her. Together we will finally reach North Cape that I have coveted for so long. And yet, the minute we got there, the only thing we wanted was to run away as the wind, which swept us as a vulgar bowling pin, was so violent. Our tour of Scandinavia lasted 4 months and already we were heading towards Italy to escape the winter that was approaching again with great pace. Sharing the trip with a friend is fantastic. To live on the Road with the woman I love is the ecstasy, the cherry on the cake of Freedom and Happiness that already provides this nomad life. When she made the decision to return to her country and let me continue my adventure alone, all the marks that I had set up around her collapsed and it was like that I didn't know how to travel anymore, unable to even know where to go the first days.
When you don't know where you are going, you are never lost.
My plan to visit all the countries of Europe was almost accomplished but stuck. I doubted about everything. But as only the Road could heal my scars, I jumb back to my saddle to explore the European islands, the only country missing of my endless European tour. Malta gave me fear in an epic ferry crossing which I thought was going to be the last and the Etna volcano erupted four days after I climbed into the snow. I was working in a Sicilian youth hostel, sick, heartbroken, waiting to find the mental energy to hit the Road again. I had to force myself for the first time. Almost instantly, all the suffering that I accumulated for months evaporated to only leave space to the pleasure of the wind on my face despite the cold.
2019 was a surprising year where I would have pedal « only » 8000 kms. I crossed Albania, my favorite European country, and northern Greece playing cat and mouse with snowflakes. The mountain passes closed one by one behind me, until I finally got stuck in a city for a week. Surrounding by mountains, except the highway, no secondary roads were open to traffic due to heavy snowfall. I fled to Cyprus for this reason, derogating from my rule not to fly. Returning to Greece under a slightly milder weather, the first mountain pass I crossed was fatal. The inguinal hernia I had been hanging out for 6 months made me really suffer, not allowing me pedaling another more day. I was surgery in emergency in Greece, where I had to abandonned my bike to be repatriated to France where I would undergo a second surgery 2 months later. My European tour, which was nearing its end, stopped suddenly. You must never scream victory too fast. After 5 months of rehabilitation, I had only one desire: hit the Road again. That's what I did with a new bike out of the trash to explore the islands of the United Kingdom and Ireland for a few months before returning to my usual bike in Greece to continue my tour where I had left.
I am now looking forward to the year 2020 with enthusiasm and impatience because I have concocted an exciting program, with a final crossing of Europe from South to North to conclude this great European tour in apotheosis. Here is what awaits me: a tour of Greece, a crossing of Italy that will pass by the Vatican and I will put my wheels in France to go through the principalities of Monaco and Andorra to finally make a diagonal of France direction Denmark where I would embark to the only ferry that leads to Iceland, my ultimate country to discover on the old continent. The cherry on the cake that I would offer myself will be a stop for a few days on the Faroe Islands in order to try to understand how one lives on an island as small and isolated in the XXI century. Alluring and exciting no ?
Join fast Facebook community to discuss with us !!!