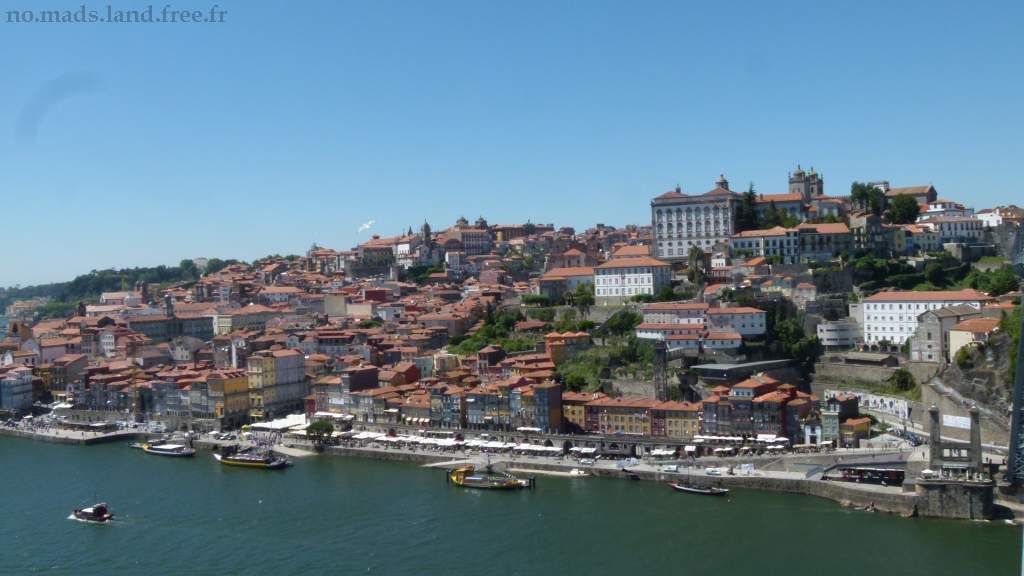 I got a stove there a few days. I go without concern towards Porto, if only to get there quickly. I move fast closer to the sea and the temperature is now more and more enjoyable. I can now ride the afternoon and it allows me to move forward quickly. Unfortunately, there are more and more cars. Logic. To access the big cities, small roads sometimes disappear over a hundred kilometers before entering.
At night, the north wind is cold and powerful. In the afternoon, it slows me a lot and I have to fight against it … Why the wind is always against cyclers ?
I arrive tired in Porto. That's why I don't like having appointments. I have to move forward at any cost to achieve the scheduled day. I programmed some accommodation for the first nights. I hope to get some rest before visiting the town. The first person I met is so friendly, we discuss much of the night. This isn't how I'll found back my energy spend this week. I go to visit the city …
Neither more nor less beautiful than Lisbon, Oporto's just different …
The Douro river at his feet, the city center isn't very big but very steep. You have to have good legs to go up and down constantly and borrow very steep stairs in the small streets. I don't have the habit of walking and at the end of the second day, pain appears already at my right leg. It will be handicap me a lot for the rest of the trip.
The mixture of tourists, pilgrims Compostela and Portuguese who still live in the small town center creates a very pleasant atmosphere. I loved watching the men play cards in parks arguing after each game and see women talk around public laundries.
The troubles begin again. Another part of my luggage carrier breaks on the cobbled streets of the city. Lucky me this time and I find the solution very quickly on a construction site.
A couple keeps my bike safe for the time I spend in Porto. If I had to push him to walk the city, it would have been hell.
Without my bike, I feel like an orphan. I see how it's a part of me, extending my legs which allows me to live and move forward. I keep thinking about it, but I feel relieved to know it safe. When the bike is suffering from the harshness of the Road, it is the same for me.
Without the bike, I also pass completely unnoticed in the city. I am one more stranger who wanders. No photo requests, no one wants to talk to me. I'm like a ghost, and without my bike, I lose my soul, the whole point of attracting the most interesting people. The city loses its charm as there is no exchange. It is very sad.
But I don't have time to get bored. The biggest problem I encounter during the few days that I spend in Porto is to find accommodation. But I had taken the precaution of organizing my visit a few weeks in advance. But nothing goes as planned. People do not have much time in town, I can understand. Every night, I have to look up contacts and meet different messages to find accommodation for the following night. All day, I have to get close to internet connections to check if anyone can see me that evening. When looking to avoid paying overpriced accommodation, everything is very complicated. In addition, this week, a large music festival held near Porto and all the hostels are full and Portuguese youth takes part every night.
I saw this very bad situation without urgent and stressful stops. Search every night to sleep the next day, without being able to rest is hell. This does not allow me to enjoy the city.
In parallel, I walk the streets of Porto in search of all shops capable of finding a solution to fix my stove. This emergency I use now runs on gas, and cylinders cost extremely expensive. Cooking several times a day with this type of stove that consumes a lot is absolutely not economical. I finally found someone capable of receiving the item in question, and it should be able to send it to me in a month to any address I provide it. This is another issue that I will resolve in time.
Tourists without really being, this is how I visited Porto, a different way (as always) in search of a welder, spare parts for a stove, housing that I sometimes found to 20 o'clock. Finally, with all this, I have running the city in long, wide and across, getting to know all the little streets like my pocket very quickly. Regularly, I was resting in parks to enjoy the peace and greenery in a city where traffic is intense. The taxis recognizable by far never stop.
The troubles have multiplied, but eventually are resolved. I learned later on the Saint James Way that I've been very lucky to repair my luggage carrier …
Many days of national road, cars and pollution to go to a big city like Porto, finally why ? The pleasure of seeing the city and the many problems that accompany … the game it worth the effort ?
This makes me think a lot for the rest of my travels, and I realize how much I love my Nature, its beauty and calm despite his hardness.
I leave Porto more tired than when I came … by taking the Saint James Way. I pass from nomad to pilgrim. I found back the small roads, forests, countryside, villages and people there live its that I love so much.
Do you hear the silence ?
Join fast Facebook community to discuss with us !!!