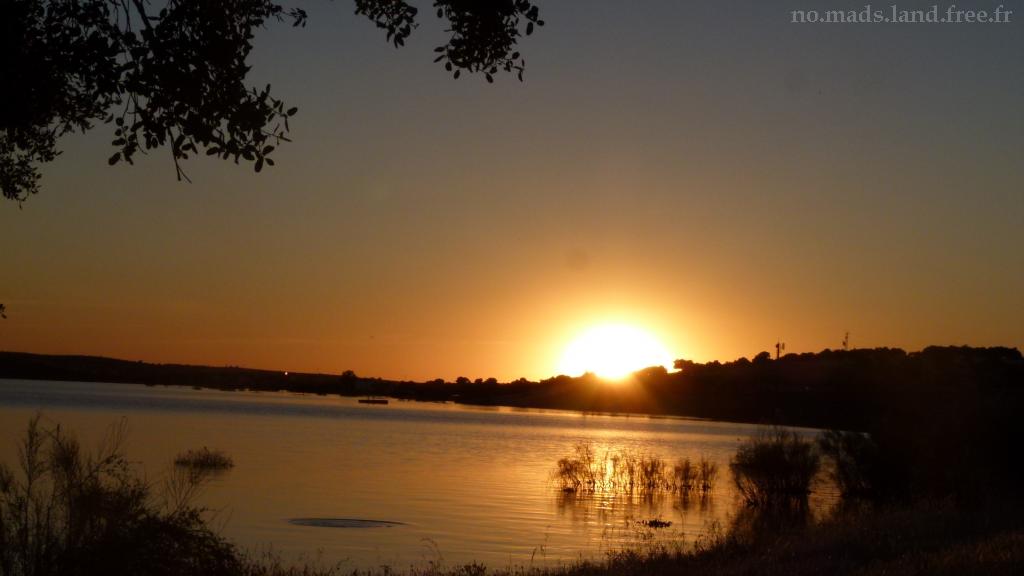 Granada is located in a basin surrounded by mountains. To get out, there is only one solution: climb. I leave Montse and his son and goodbyes always take a little time. So I go out of town mid-morning and it's already hot. The first 15 kilometers climb accentuates this feeling of warmth. I now found on the Ruta del Califato that is simply a national road. The advantage of this route are the few strongholds planted on huge rocks overlooking the villages. These are rare and on the hills bordering the road. The landscape consists only of olive trees that are planted until the tops of the surrounding hills. Some pine forests remain here and there and this helps to understand how man has transformed the panaroma to cultivate.
The road descends now more often and the safety barriers prevent me to leaving the road except on the approach of relatively spaced villages. By car to get to the fortresses, this trip should be fun, but cycling is another story. Traffic forces me to be very careful, it's hot and the only water points are at the top of the ribs. I spend more energy to climb to the village to stock up on water than to do the kilometers that separate them. Quickly, I prefer to charge me with several liters of water in the morning and ride as fast as possible to make my daily 50 kilometers without stopping until the heat doesn't allow me to move forward effectively. That's when I dive under the first olive tree which came and which I can access.
Day by day, I get up increasingly early to roll under proper temperatures. From 11 am, often it's already 35 degrees under my helmet. The rest of the day has to happen in the shade, beginning with a long nap to recover from strenuous morning effort. I usually don't like the morning, and it's pretty hard for me to get up between 6 and 7 hours. The days are long. Heat is only clears between 22 or 23 hours. Still, it's very good to have the feeling of being able to do many things in one day as opposed to winter.
The rhythm of my days has changed dramatically as the landscape that is evolving day by day. Olive trees gently leave room for cornfields when approaching Cordoba. The road also flattens increasingly.
After Cordoba, I must pass a small mountain range: Sierra Morena . It begins with a long and difficult climb of more than 10 kilometers on a national road crowded of trucks which struggling just as much as me in the ascent. Then, the road flattens out again closer I get to the border between Portugal and Spain. The vineyards now dominate the landscape.
This month is synonymous with escape to the Atlantic coast Portuguese and Galicia further north of Spain where I hope to find milder weather.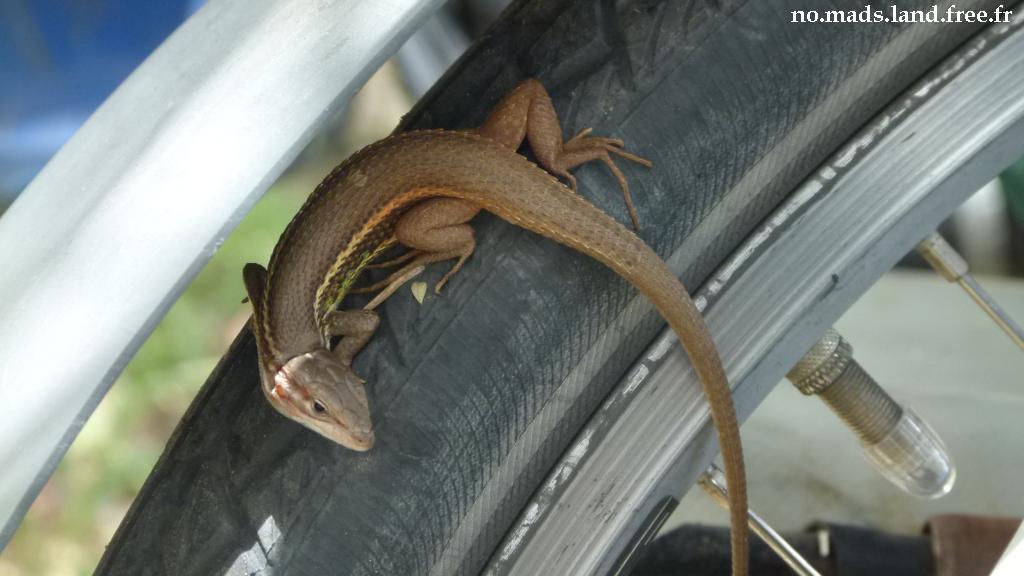 Agriculture in the region don't offer a lot of possibilities to find the shade. I almost regret the olive trees I had yet seen enough in recent months. During the day, the only way to find shade often still take refuge in children's parks in the villages. The benches are the perfect size for me to reach for the now traditional mandatory nap. Sometimes when the village is welcoming, and I can find shade for the evening, I stay to sleep.
Then I need to find a balance between install me in a quiet discreet corner and stay in contact with the population in order to reassure her and show her that I will not be a problems. All excuses are good for me to put them in confidence. Ask to a gardener if I can use water as a sink for wash myself and then sleep in his garden in the shade of a tree. Participate in a game of football with the village youth and then sleep near the stadium …
I gain more and more experience to sleep close to civilization without disturbing or scare her. I love what I find myself able to do now. Previously, it was unthinkable for me to sleep somewhere else than in a hidden place in the forest or in the fields. I'm starting to be able to adapt to all situations, and anyway, I must sleeping then there is always a solution …
As for my personal taste the village isn't welcoming, I take the bike for a few kilometers in the evening counting on luck to find near an abandoned house or a site flown over by hawks a little bit far away to the road …
With the heat of the evening and the morning sun already powerful, sites in the shade to sleep are much more difficult to find, especially as agriculture dominates the entire space. The shade is scarce, and often only human constructions allow shelter. Ultimately, sometimes I'm obliged to make my own shadow with my bike, rope and tarps …
More I am close to Portugal and more the villages are close together. Water management becomes easier. But for a while, when I found myself obliged to borrow national road to avoid mountains under 40 degrees, it was a delicate issue to handle.
With the constraints of the Spanish topography, how roads are built because of the reliefs, heat, and constraints related to travel in itself (water, food, fatigue, mechanical problems, …), no day is resembles another. I have to adapt myself every day to many parameters. This is even more valid here and now than usual.
With all this, I never can really predict when I will be able to easily access the next clean water. I then carries as much water as I can, about 7 liters, to avoid shortages and able to stop whenever I want in a fields if the heat becomes suddenly too strong for me. This allows me to keep a certain autonomy and freedom to stop whenever I want without being dependent villages and without being forced to rally at all costs. On tourist maps, villages appear, but not the petrol stations. These are often the only ones water points available on national road, and sometimes it seems easier to find gasoline as water …
One day when I was beginning to overheat and to seek to supplies water in order to immerse myself in the first place welcoming able to offer me the shade to rest, petrol station appeared on the horizon. The attendant was doing the cleaning of gasoline pumps and external surroundings of the resort. I arrived sweaty, very hot and seeking absolutely water.
The situation was more mixed. I had a few drops of water to the bottom of my bottle while this man wasting tens of liters of water to try to hide the smell of gasoline that dominated the atmosphere.
A bucket was near the pumps. The closer point of water was about ten meters far away. His garden pipe was only 5 meters long. To avoid carrying his bucket for a few meters, he preferred to try to fill the bucket in distance by aiming at best. It was not a success, dozens of liters of water covered the floor while his bucket was filled very slowly …
I went up to talk to him. I made ​​him remark that it is easier to move the bucket of a few meters and then get closer to the pump for cleaning. He replied : " It's hot …"
My turn came to speak , and I told him about this:
"I know it's hot … but you are wasting tens of liters of drinking water per laziness to wash gasoline and cars. Meanwhile, I search every drop of water from kilometers to hydrate me. Meanwhile, in some countries, people have to travel dozens of kilometers to find some drinking water sometimes not so clean … Water is a precious commodity on this Earth, we are made ​​up of 70 % and preserve her it's assure a future for our species and life in general " …
"That's true", he told me while continuing to fulfill its remote nonchalantly bucket …
He must do this every day since many years … and people with car who's stop to refuel gasoline doesn't seem shocked, to walk in a mountain of liters of water while outside it's stifling …
Join fast Facebook community to discuss with us !!!