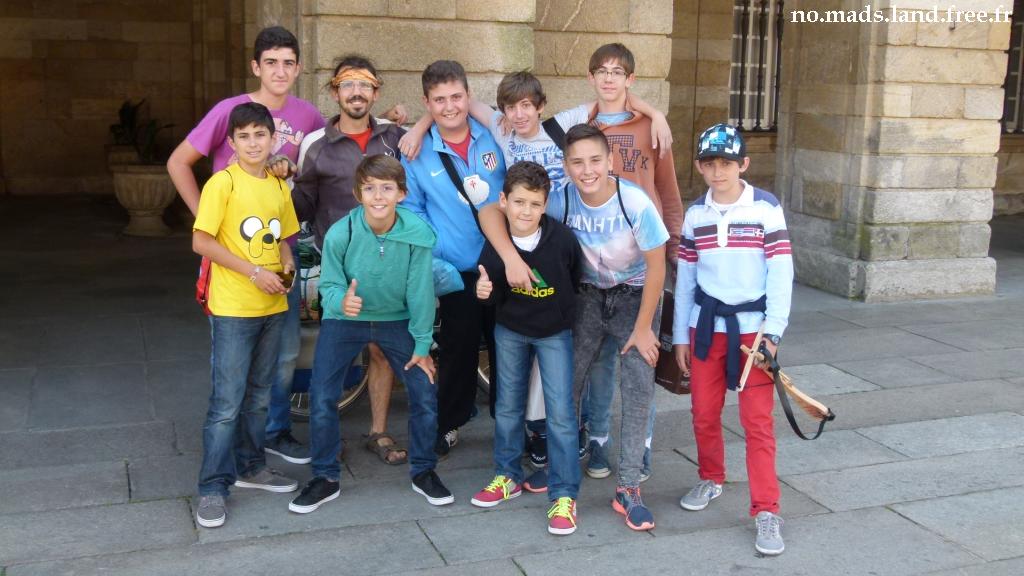 The Men of the Saint James's Way in Spain
I lived an adventure somewhat perilous to which I didn't expect on the Saint James's Way. Now I know what to expect. The Way is sometimes very surprising and far from relaxing …
I spent a long night at the waterfront at the foot of a waterfall to recover from the effort of the previous day. I start to cycling still in the mountain and it's begin to descend. I crossed the river on a stone bridge a little disturbing, and instantly start to climb on another hill. A couple of tourists has walked this road this morning. I asked them to show me a map to locate the nearest asphalt road. They promise me the path is fully accessible by bike. Given the state of the new track a few hundred meters further, they shouldn't have walked a long time.
However, it is a little easier than yesterday. The stones still huge, are flatter. Uphill, always steep, are shorter. I ride again 10 kilometers complicated in more than 3 hours in the morning. Slower than walkers. This time it's decided, I start to take a little more attention to my maps by observing the upcoming elevation profile. I don't wish to join Santiago de Compostela in this way and find myself in this situation for days. This represents an excessive expenditure of energy for the short distance.
Now when I see the Way rises too high in the mountain, I chose to bypass by the national road nearby. Too bad, I wouldn't do the Saint James's Way in its entirety. We have to be wise sometimes …
Gradually, the Caminho Portugues da Costa catches the Central Caminho Portugues. They meet at Valença, near the Spanish border, facing the metal international bridge.
On this dual-use bridge, trains pass a few meters above our heads. If a train were to happen now, the noise must be deafening.
Here I am in Tui, again in Spain after crossing this surprising bridge.
The Spanish Way is easier. The profile simplifies despite some passages where attention is still necessary. No more mountain forests to cross.
As we get closer to Santiago de Compostela, the Way follows very closely the national road. It goes most than possible in the villages along this busy highway. Unfortunately, too often, the Saint James's Way and the national road are only one. By bike, I realize these common portions rather quickly and quickly. For walkers, slow paced, full sun, this shouldn't be pleasant at all.
In a village in a straight line and in full front wind, I saw in the distance two cyclists. Their luggages intrigues me. They pull a small trailer and each have a small seat behind their bike.
Arrived at their height, that's what I thought. Both Spaniards traveling with their children: their 3 year old son sleeping peacefully in his seat, while their daughter 9 months trying to talk to me. Like what, childrens don't prevent to have adventures … "you just need to adjust the pace and the way" they say to me. I ride a good time with this super nice couple and we have a beautiful exchange. Good memory.
I resume my journey alone. Santiago de Compostela approach. I decided to stop early to keep one last big enough portion to enjoy it tomorrow, my last day of pilgrim, before many others as a nomad.
A Belgian come seat beside me to rest. At 67 years old, he is in his third Way. His last he tempts to make believe me when he already speaks to me of the Via de la Plata that attracts him.
I camp one last night in the garden of a church under the anxious eyes of the villagers. God will not dare push a pilgrim out of his house. In the morning, I go as fast as I can before the priest starts an imminent burial ceremony.
I found my Belgian in the day, he is well advanced. I stop to talk and walk by his side. I decided that the last day of my Saint James's Way will be with almost the same speed as pilgrims. We stopped in early afternoon for a beer. I love Belgium.
A force to overtake each other, all pilgrims on the same area end up knowing each others. They even end up booking their hostel (albergue) in small groups from the 4 corners of the World (mainly Europe). An Italian sits down at our table and invited me to eat in exchange for a souvenir photo.
It only remains for me 15 kilometers to arrive and I want symbolically achieve alone, at my own pace and by bike. I left them.
I realize these last kilometers gently to make the most. They are rather easy.
Suddenly a narrow path descend steeply and passes between two houses in ruins. This is the last gravel track. I caught up with the asphalt road for a final tough climb up the town.
I entered in Santiago de Compostela and the final isn't the prettiest: avenue full of cars and stores. It's disappointing. I ride into the historic center, find the paved, and finally the Cathedral, which appears in the distance. Only a few hundred meters away and the Cathedral Square opens before me. Here I am … No particular emotion. Strange feeling.
Some couples hold hands together to complete, groups end up running or singing. The place is crowded. There obviously the pilgrims but also tourists came to admire this pretty little mythical city. Tired of their Way, walkers are lying on the ground near their backpacks. Cyclists deposited on the ground the little luggage they have and upping their bikes in their arms in a last effort to capture the moment in pictures.
I also fall near my bike and take a few pictures. All are quietly settled there in the square to enjoy the end of their Way, to enjoy the moment, to write in their memory, to remember their Way, enjoy the adventure they have just experienced. I do the same sitting and leaned against the bike. I'm on the Cathedral Square since 20 seconds …
20 seconds … while some may be installed there quietly since hours.
A couple saw me coming and already approaches me without saying to me Hello: Can we take a picture ? Why would I not allowed myself to enjoy my arrival quietly even if for me this place is a place of arrival as many … Are they posed the question if I wanted to be alone for a while after so much effort ? I don't think so …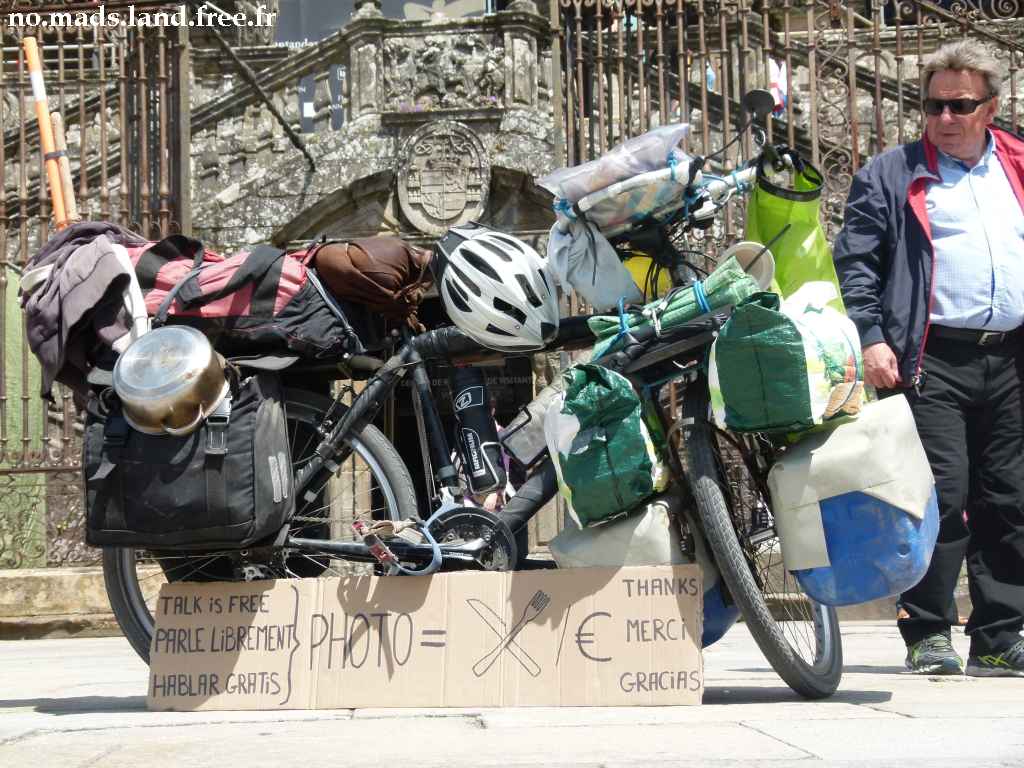 Neither one nor two, I leave the sign that I had prepared a few days earlier, knowing exactly how it going be happen in such a tourist town that Santiago de Compostela … The reaction of tourists is a very different result, and displaying my intentions directly, has the merit to scare those who seek to satisfy their own curiosity, and that no intention to exchange experience with me. I finally get the right to enjoy my arrival.
I go a little away to win again more quiet. A group of teenagers came up to me. We talk all together more than an hour. Without be able to change their idea, they make a collect on seeing the message and also gives me a shell in memory of our discussion and My Saint James's Way. I still managed to make them forget the idea to buy a new jacket, mine fell to pieces. Meanwhile, an old man pierces the group pushing children without precautions. To take a picture, he would like to approach as close to the bike, as we surround it. The children stopped him and waved spontaneously the sign before his eyes. After a long hesitation, he reply: 1€ it's OK ? More, more, shout the children, we offered 3 euros and 2 chorizos … The old finally behind their 1€, take his photos from all angles and go without saying a word. This man is useless tell me one of the young … Amazing, he understood everything.
I am reassured to see that sometimes the future of our planet is somewhat assured !!!
I go in search of a city map at the tourist office. All pilgrims show me a place that I had no knowledge. An office where they come to register their Saint James's Way, validate their kilometers and get a degree. The queue is unlikely. There are so many people who come every day to Santiago de Compostela during summer ? I am very surprised.
I begin the queue and I see that everyone has papers in hand. I ask which documents must be present in order to validate its Way. Symbolically, I would also get a small degree to keep it with all my travel memories. I was told that I must present my Credential (pilgrim's book), which proves that I made the Way to Santiago by making it dab in hostels.
As I don't have that Credencial obviously they refuse to register me as a pilgrim. It's like I had ever done. Yet I surely lived a more difficult Way than some, without sleeping at the hostel, without hot shower, without bed, without restaurant, and with a bike over 80 kilos … It's unfair, but deep I know that paper isn't very important. I know that on some sections, I have again pushed my limits that I thought already have reached since a long time.
If someone had told me how the Saint James's Way with my bike would have sometimes been so difficult, I would have surely avoided. But as well, there is evidence that when one is in front of an obstacle, there are only two solutions, avoid or thru it, and discover that our limits can be pushed back constantly … I also discovered how despite my love for Nature, I am dependent of the civilization of Men and its roads. The hardest part is just finding the right balance …
Join fast Facebook community to discuss with us !!!