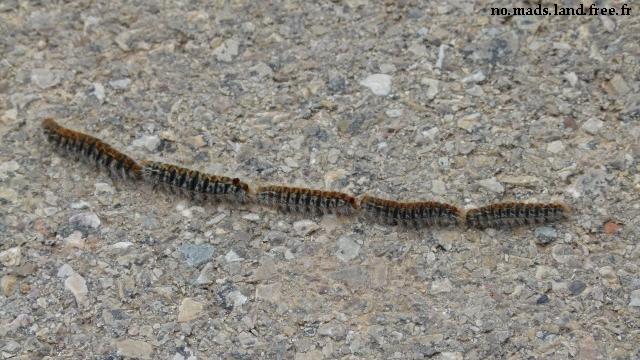 Nearly 1500 kilometers without a single true spontaneous meeting without once being hosted, for me it's unthinkable. Yet, that's exactly what has happened to me in this crossing of Spain, from North to South, from Catalonia to Andalusia. This doesn't really surprise me, because during my first visit to Spain by hitchhiking, I already had a lot of difficulties in transforming a discussion in the street on a sharing evening close to the fire.
I can't say it revolt me because I am used to refusal, knowing the fear of the other is now firmly anchored in the heart of this World. I feel more a sense of incomprehension. I question myself without finding any answers.
Some referred to me the Civil War and the oppression of Franco … Did he left so many scars in the hearts of Spaniards to the point that he still directs their behavior today ? We haven't talked enough about to be sure …
Many tell me about the crisis … it justifies alone this permanent attitude of mistrust ? I doubt it because I was often be welcomed in many poorer countries that the current Spain …
The main objective of this second coming in Spain is to learn their language, in these conditions rather lonely, I will not progress quickly. However, after a few weeks I already surprised myself to be able to develop more the discussions I spontaneously engages with some people who smile to me in the street to which I head naturally. Despite my poor vocabulary, I began to exceed the cap to be only able to ask the direction to the next village and to understand the explanation.
But I imagine that the Spaniards understand my situation, because every time when I try to install my tent in a garden to make a first contact, they answer me that this isn't possible, especially in a tent, it's too cold they tell me. Another nice excuse to push me far away !!!
I'm trying all the techniques of approach that I learned on the road to spend an evening sharing with the locals, nothing, every night, I received one or more refusal.
After several weeks, annoyed, I finally no more try to be accommodate by local people. This makes me lose precious time on installing my bivouac and then the dark complicate the task to find a place to stay safe and in peace. Now, when my legs are starting to say that I have pedaled enough for today, I jump at the first opportunity to have to hide me between two rows of fruit trees or to sleep in the shelter in one of the many abandoned houses in the country. Justice is so complex in Spain, when a person dies, the procedures of inheritance leave enough time for empty houses to turn into ruins.
When really it's not possible that I'm hiding, in the less mountainous regions such as the Meseta of the autonomous community of Castilla-La Mancha, I go into the villages and getting closer to the population. After some refusal to lend me a corner of lawn, I finally choose the lush grass, visible, often choosing the best point of view on the mountain. People have too afraid of me to come to dislodge me or bother me during the night.
When I can't be helped, I must become firmer. But because I'm not a wild guy, I'm gonna explain to the neighbors who see me, that if no one wants to help me and because the World belong to us all, I'll sleep here close to home and that they will have no problem …
Despite all this, I can't say that the Spaniards rather quiet and smiling aren't ready to talk or to help. The only painful thing I still don't understand is why we don't sleep especially at home and why anyway, especially we don't enters in their home.
Nature wasn't always very kind to me last month, some village mayors in the mountains, when the nights were too cold or wind too strong and very cold, gave me a warm place in a building of the community, like a doctor's waiting room, a gym or a toy library. Sometimes people also helped me and guided to find a peaceful and appropriate place but never once does they offered me to host me.
Fortunately, to make you forget all these difficulties, in this country of mountains, nature and geography offers its splendor. She is able to surprise you at every turn. This requires knowing how to choose its route, avoid overcrowded coast where the only traffic routes are often highway and national. Here, every mountain pan, each canyon, every valley, offers a new facet that represents well the people of this country and culture, complex and beautiful at the same time. Spain, so difficult to interpret is surprising. She contemplates, makes you gain altitude, a little height that allows you to slowly discover the full range of the color palette. The rocks that come from the center of the Earth had to be painted by an artist rather joyful. This Nature makes you forget that you are alone since too long …
One day on the Via Augusta, when I started up my cycling day unusually early, I went in search of a library to send some news to my family. Questioning Joan Antoni in the small town of Vilavella to locate the library, he told me with certainty that it was closed because he was himself the librarian and the director of the Museum of Roman archeology, his specialty. After a few minutes, he asks me since when I haven't taken a shower … When I tell him six or seven without actually really remember, he invites me to come home to the most wonderful shower of my life … every hot shower always the most wonderful shower of my life !!!
Finally we discuss at length in her kitchen with breakfast and a good cup of coffee. I leave three hours later, when he filled me a huge bag of food that I never would have thought capable of storing on the bike. In reality, it's always possible to load more punctually than reason this extraordinary bicycle, even more when it's question to store free food. Before leaving, he even insisted that I accept the 10€ that he slides gently into my hand.
That is the example that no matter what one may think of the population of a country, we must never make generality, because for generosity and hospitality, every human being to his own design, its own personality, its own open-mind …
I hate when people ask me, "What is the best country you visited ? Where are the most welcoming people ?"
Of course, some countries are naturally more welcoming than others, I have some favorites that I would not quote, but the answer depends mainly of technical galleys whose I suffered, and my own mood and desires of my moment to share or not, because I also like sometimes to be alone at night after a hard day of cycling …
Despite this pure moment of sharing, I still question me and question those I meet on this inability to sleep at home. A friend who lived in Spain said that the Spanish don't like the French. Personally, I've never felt this feeling of rejection, no doubt helped by the unusual apparence of my bike. People's behavior hasn't changed after they learned my nationality.
An urban shepherd, who did grazing his goats in a freshly harvested cauliflower field, will give me a semblance of response. According to him, the problem of fear of the other didn't exist before. He explained to me that for too many years, Spain has become a haven for nationalities from all the World, one of the most accessible entrance doors of Europe. This immigration "mass" has created human wanderings. Initially, people helped each other, foreigners was welcomed for one night and offered them the opportunity to eat. But too often, human perversity was that such assistance was transformed in one of the simplest solutions for foreigners to leave incognito in the morning with full pockets … full of what ? Is it hunger or greed of easy money that cause them to steal ? Who knows. Of course, we doesn't say here that all foreigners are thieves and dishonest. Anyway, little by little, the doors are closed and the Spaniards have decided never to open them anymore to anyone, staying cloistered behind bars that protect them since too many years … This response that satisfied me on the moment, I have it strongly questioned since !!!
I lived a situation, a glaring example of this fear that have Spaniards and refrain them to make you enter in their home one of the few times where I could pitch my tent in a garden. In the morning, after a quiet night, without problem, faster than possible, I ask permission to use the toilet in the house. Stunned, I get a categoric refusal on the part of the torque around fifties. Are they afraid that I steal them a roll of toilet paper when they were quite capable of telling me "yes", to escort me and watch me all the time where I would find myself in the house …?
Regularly, they try to make me believe that the crisis is the result of this inhospitality. Although I denigrate in any case the damage that the 2008 crisis has resulted in Spain, I want to say, ladies and gentlemen, wake up … Seven years have passed since and although work continues to lack severely, the crisis has now good back, it's neither the cause nor the excuse of all your defaults …
So, without contact and support of the population, Spain is one of the European countries of choice for all cyclists in search of adventure who want to test and see if they are made for the Road. Along the coast, traffic is dense and fast. The small number of axis often require you to take the national if it's only for a few kilometers before sinking into the quieter mountain, where motorists are cautious overall. The mountains are omnipresent. We aren't talking of the Alps, the Andes Cordillera or the Himalayas, though the Pyrenees and Sierra Nevada remain fairly high altitude. But all these small mountains in the interior, one after the other will quickly test your physical, mental, patience and perseverance and to give you an idea of ​​charging extra that you need to relieve you to climb more easily.
Spain, on the entire territory throughout the year will also offer you the opportunity to test yourself and your technical equipment under all weather conditions. It can rain a lot in Galicia, winds on the plateaus and valleys can be powerful, but mainly, during winter in the north you can cycling in an abundant snow, reach temperatures down to 10 to 15 degrees below zero and a few months later, end up in the furnace and aridity of Andalusia and Extremadura in the South.
If you want to push a little further adventure, sometimes you can even sink into the mountain by very rough tracks that will put your nerves and your equipment to the test. They aren't on maps but by questioning the local people who know the shortcuts. They borrow the 4×4 to avoid detours asphalted roads which can double or triple the distance. I happened to borrow some of these difficult shortcuts, and the pleasure of total solitude without asphalt to tens of kilometers away, often in sublime scenery, is enough to make you forget how painful is to progress, pedaling or pushing in the steepest slopes in the gravel, sand or rocks, under a blazing sun with a limited quantity of water. Certainly you will regularly try to analyze if you are lost or still on right track.
The most memorable memory I have was when I followed the Via Augusta, which follows my taste too often national and highways. Indeed, the Modern Man didn't invent anything, the Romans already knew how to avoid the mountains to build their roads. The main roads always go to the same places in the valleys, and replaced the Roman roads and are ultimately only larger, wider and more modern to support our current transport. However, some sections haven't been modified by man but eroded by Nature. Sometimes the Via Augusta becomes hell for bikes, digging into the steep mountains or having gaits Moroccan Oued. The tracks are forming by soft and deep sand or rocks impassable. Stone by stone, you will come to the end anyway. Each pedal revolution, every inch gained by pushing the bike is one more victory on the difficult road of the Human Adventure (or not) in Spain …
During the day however, people will remain open and sometimes willing to help, but do not count on them between 14 hours and 17 hours, when the country stops. At nap time, the villages are deserted and no trade opened. Fortunately, even though water and irriguation fields remains a problem in Spain, there is a fountain in almost all villages that you can cross. With some exceptions, including a woman who contracted Typhus in the Sierra Nevada, water fountains is often much better than tap water from the homes of people who themselves sometimes use it.
But this still doesn't explain why it is still impossible to sleep in their house …
I made an idea by myself, and after several months, the answer will come from the younger generation who knew neither war nor actually suffered the onset of the crisis as they were that students at that time …
It took that I sink into a deep valley difficult to access. It took during a hot afternoon, that I swim in a beautiful waterfall in the company of Rocky and Bea which I met there, so that finally the best answer that one is dared confess arises: According to them, and I am quite agree with they told me, it's simply in the Spanish culture to not get people home. Even among themselves, they explain to me, the Spaniards need a lot of time when they encounter a person, who became a friend, before inviting him home …
Meanwhile, on the coasts and in large cities, other, pockets full, continue to be welcome with a big smile …
Join fast Facebook community to discuss with us !!!