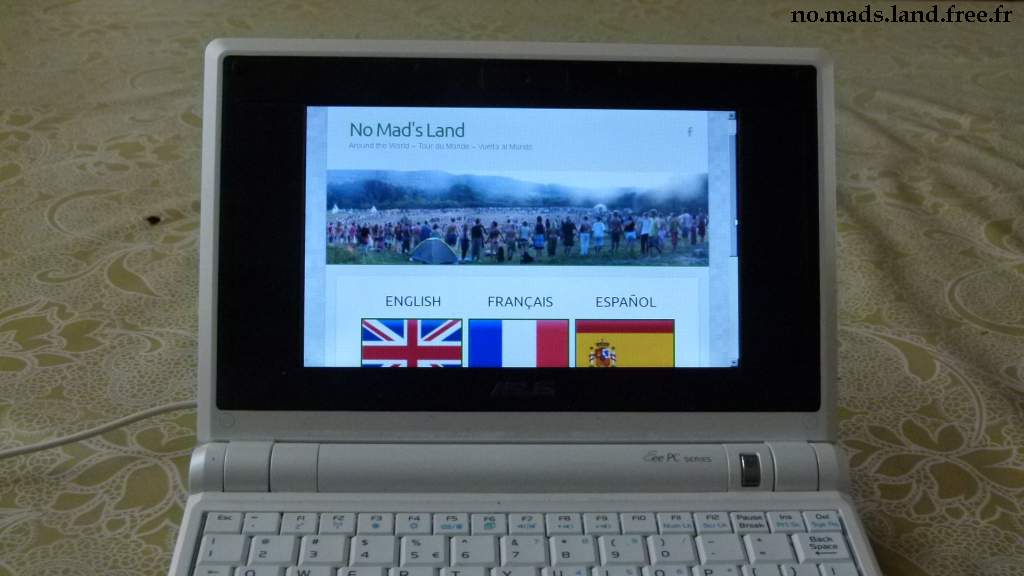 When I decided to start this website, I had no technical knowledge. I should to learn a lot, and I continue to do it day by day. It took me longer than I thought to put everything in order. I didn't know neither how many time I should dedicate to write my articles, the lay out and add beautiful photos that I should specially treated to make them good to diffuse on the internet how I learned later … I know a bit more now and this represents a considerable work. Here is a small article rather "boring" on computers and Internet during journey …
Nearly three months have now passed since I arrived in Spain, and although I made considerable progress, I can't say I'm completely comfortable in discussions. So I continue to search through the HelpX network to live with a Spanish family.
When it's possible to find a computer and connect to the internet, the conditions are often very restrictive. Nevertheless, during my stay in Cabo de Gata, continuing my research at the library of the village, I received a positive answer to integrate one home as helper. For me it reports to the obstacle course, but finally my intensive language learning should soon accelerate. Without personal computer, everything is really complicated.
I have an appointment in a small village near the historic town of Orgiva reputed to be one of the iconic places around which many hippies coexist, including the famous Beneficio community, supposedly the ultimate hippies living in Spanish, in a valley without apparent organization rather than in a village proper say as I thought.
To reach this village, I launch myself, leaving Almeria, in a beautiful ride of the Alpajurra which covers the provinces of Almeria and Granada. The Alpajurra is part of the Natural Park of Sierra Nevada. This chain of mountain is the highest in Spain. The mountains that I had encountered so far were only a foretaste. Since the sea level, for 20 kilometers, I must now climb to an altitude of 1000 meters. The ascent will be difficult.
It's hot, and halfway through I have almost finish my water reserve. No need to hurry, early in the afternoon, I decided to settle down in the first and only place that I saw where it seems possible to camp quietly. So I will realize the climb twice, stopping halfway through to enjoy an evening under the stars overlooking the sea from the heights of the first slopes.
As always, once gone, the difficulty seems less difficult that imagined. The next day, I find myself at the heart of Alpajurra, this young mountain with sharp peaks, and I see everywhere the many small white villages perched on the mountainside, whose some have more two hundred years. I continue like that almost 200 kilometers, distance on which the mountain extends. The ride is beautiful, sometimes difficult but serene passing from one side to another by viaducts up to find myself near to Orgiva. I will soon be able to work a bit and write to you, thought I …
The Alpujarras, whose some cities are very touristic, home Spaniards who love their region, strangers from all corners of Europe, many hippies but also rebel junkies who found here a temporary solution which becomes permanent to their ills of society, or those who, affected by the crisis, hadn't other choice to build makeshift homes more or less tolerated …
There aren't a lot of money in this region, people talk a lot about it …
Isolation, calm, grand beauty of nature, and all the personalities that's possible to encountered here, do to the Alpajurra a particular region. It's possible to feel like at home, or to hate the place. It's in this atmosphere a little out of time, where marijuana grows as easily as the tulips in Holland or roses in Kenya that I join a family that settled in the valley in search of a piece of land where to grow some vegetables. I discovered to my great disarray that the family is English and I am disappointed. In addition, the village has no library and I will be depend on the good volonty of this family in order to work on their computer.
Emma, the family mother, built his house with stones recovered for several years in the river which borders the village. To extend some projects on his property, she welcomes anyone wishing to offer assistance in exchange of food and accomodation, and also houses on his land a few Englishmen who live for an affordable sum in converted trucks or small wood chalets. Many childrens from around run in the garden. The whole gives an atmosphere both energetic and relaxing. In two days, I will learn to make a typical Andalusian roof built as inconceivable way if it will made in my hometown often rainy in northern France. The work, just as interesting as it is, is only a pretext for learning Spanish. I haven't heard a word of Spanish language since my arrival, so I quickly decided to cut short my stay … Definitively, the HelpX network disappoints me a lot for now. I have not found here any possibilities to work on my articles whose I wish to share with you.
The most important of all this history, and that I met Rosie, a young 47 year old Irish who hitchhiked Europe since 30 years. We will talk many of our feelings through our nomadic lifestyle. We will discuss about a problem that we both have since recent years that we didn't feel before when we already traveled. Here it is:
We travel without a computer or tablet or modern mobile phone, so without equipment to get free internet connection. We feel both excluded. It's a bit like we were strange beings, refractory for evolution or revolutionary. But that isn't the question …
The subject is rather in general, we feel trapped when we find ourselves in a place where we don't have the ability to connect us to the Internet World.
The wireless networks are becoming more developed, present and performant in Europe (and elsewhere), the only concern remains be able connect to it. Without being able to use computer equipment that we find here and there, this is impossible. Often in the house of local people, it remains difficult to use computers or tablets (which I still don't know how to use) for a sufficiently long period to manage our affairs or find through various networks (CouchSurfing, Warmshower, Woofing, HelpX …) the next point drop for taking the decision to leave a place to get to the next one …
Everywhere in Europe, now the libraries have available computers. Here in Spain, also. but according to the region, the conditions are more or less restrictive.
In Andalusia, the network Guadalinfo is wonderful and you can work in all the small villages on high-performance computers for an unlimited period …
In Catalonia, with your ID, you can acquire a number then you can use one hour of internet per day per computer … if there is a lot of computers, as in the libraries of large cities you can work all day jumping from ordinator to ordinator every hours. I call it "the musical chairs" !!!
It'is using the libraries that I am able to write to you.
In other regions, it's a little more difficult. Computers must be shared, logical, but the connection time are short, never more than an hour, or even half an hour. This makes it very difficult to write properly, especially since most of the time I log in from small towns, where it's easier to secure the bike without that people steal in my staff, what has happened to me. In these villages, computers are sometimes really slow and Internet networks sometimes just as inefficient. One day he took me 32 minutes to access my email when the connection was limited to 30 minutes … Wifi was there, she, unlimited …
If we add to this the Spanish complicated schedules to manage, as most public places are open in the evening from 16 see 17 hours when I have to put myself in search of a place to spend the night, this gives you an idea the little time that I have to write my articles …
There has another solution … write in the house of people …
Here in Spain it's complicated because the meetings are rare. But in general, it's also difficult, since when finally I am in a home, the goal is to share and not to work. When finally I am trying to advance a little bit on my articles and find access to a computer, what I call the "War of Screens" begin …
Today, there is only few homes in Western Europe where there is no computer neither tablet. Unfortunately, everywhere, especially the younger generation, people are unable to move from their screen and log out to offer you the possibility to access in the computer some time …
Manage a website is a lot of job …
Often the only laptop or tablet that is present in the house is already use by children who jump from one screen to another without conscience. This is the World into which they were born. They lend their tool if only a few minutes which leads to tensions and pressure that I can't bear …
We all know how to work on a computer and evenmore surf the internet is time-consuming. Find labor and looking for host demand a recurring internet access. Children aren'ot lenders but strangely, it's also sometimes true for adults … The computer becomes a touchy subject, a valuable object who is important to talk borrow tactfully …
I have done many times the experience so much that now I prefer often refrain from asking anything and use nothing rather than have the impression that we allow me to use a computer with against heart, this reducing the time of the other for play with stupid or violent games …
So, Rosie, who uses only HelpX network for traveling and jumping from house to house, often gets trapped in a place she would like to leave without being able to confirm his coming to someone else or unable to seek a new place of accommodation.
About me, this isn't entirely a problem, being almost totally self-contained with the equipment I carry on the bike, I can decide to leave a place whenever I want, but Rosie traveling light with only one bag backpacks and without special equipment. It's unthinkable for her to find themselves blocked in nature from the elements. Its autonomy is almost zero.
Gone are the period when you could find a farm in minutes a small job and willing in exchange food and accomodation … it is already now sometimes difficult to find warm barn to sleep in the straw (when the straw isn't replaced by GMO) ….
Gone are the days when you could quickly find a place to sleep for free or cheaply in cities. For this, it must now be homeless, call the specialized services and agree to be observed and considered as such, with all the conditions that entails, and contemptuous glances it generates …
For me, problem is different. Certainly, it's happened to have some trouble to find a host via CouchSurfing or Warmshower with my inability to connect (I hardly use these networks preferring in 99% spontaneous encounters, but in the city, it's complicated …). Now, some things have become impossible without our internet (or without phone, that's another story). My need for connection is necessary in order to reassure the family and take their news, that I managed to do that too briefly, but also for you "my dear some readers" to power the website that I decided to try to put in place to offer you my vision of the World, to tell you what is happening on the ground with the people and not the big media scandals, show business, of political or military affairs in progress. This site describes my vision of the World, personal and realistic that I meet on my way and see, on the themes of Nature, whether grand or terribly polluted, and Human, whether good or bad …
Maintaining a website is therefore proving to be harder than I thought, and without his personal computer, problems to working quietly are multiple. But I haven't abdicated to share with you the World and my ideas, I have overcome much more difficult problems in my travels … Recently, I had the impression of chasing a computer and internet, as I hate most of all because it radically changes the peaceful and pleasant way I have to travel. I always run again schedules libraries, and against the connection time is allowed me. It's for all these reasons, to try to continue this cyber exchange with you, than I decided to try the adventure of traveling with a computer (this will be a first for me in 10 years) and therefore equip myself accordingly. That's will make smile my big sister who asked me many times and repeated: "You take a computer this time?" as every time I left the house …
My idea is that get a computer at least leave me time to prepare my articles quietly out connection in my spare time at the bivouacs (even if contrary to what some think, I have little free time …) … thus I will spend from old-school to high-tech traveler … and I will become simultaneously depandant to electricity to recharge the battery …
Join fast Facebook community to discuss with us !!!